Privacy and Map-Happy Coding at DeveloperWeek 2020
We're happy to announce that DeveloperWeek and the DeveloperWeek Hackathon were a huge success – and we had a great time. We kicked off the week with our Devie Award win during the first night of the event – for Trillian, our Autonomous Test Vehicle, in the Automotive category. On the first official day, Developer Advocate Olivia Vahsen gave a talk centered around her recent article, "We can't talk about privacy without developers". After two days of networking with devs at the conference, headed strong into a busy weekend of hacking!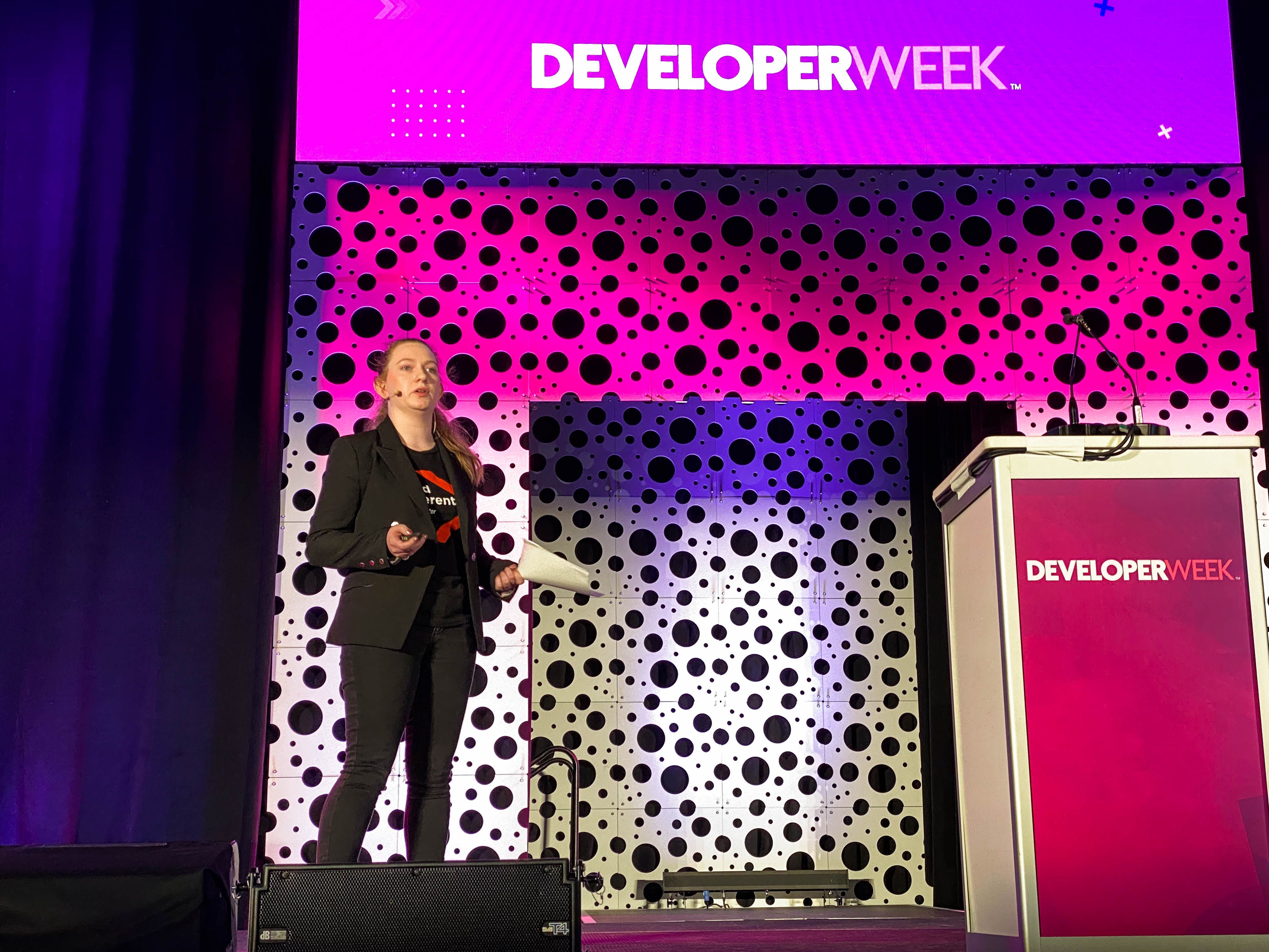 Galvanize SF was packed with over 600 coders who seemed to love our social positive challenge – to use any of our Maps APIs to eliminate food waste by connecting hungry users with any food vendor or local food-business entrepreneur. Over 1/3 of the food produced globally every year is thrown away, making this a huge societal and environmental impact.
Day 1 saw us giving our TomTom pitch describing our challenge for the whole venue to hear, doing demos, a Search API workshop led by some of our engineers, and helping to debug the code of eager participants. The next day, after many teams had likely worked though the night on their projects, judging rounds began!
This began with the overall round, where judges (impartial to their own company challenges) scored technical pitches by general completeness, real-life problem solving and presentation skills. There were a huge number of motivated teams who built amazing projects within such a short amount of time, as well as a great number of students who learned a lot about coding on the fly. After the morning overall judging was done, people began lining up halfway down the venue to pitch to our booth! We had to keep all the teams to 2 minutes of demo time each, but we made it through – with a time extension to accommodate the over 25 teams who were excited to show off their hard work. With so many projects, it was hard to keep track at times and take notes to signify our top picks…
…But in the end, two amazing projects stood out to us, and we were able to hand them our two comically giant checks for $1500 to first place and $500 to second place, respectively. We're hoping to connect with our winning team, "WinWin", more and learn some of their tips and tricks for building a text-alert enabled, QR-mapping project that featured a clean, trendy dynamic UX – we won't spoil any more for you, but we hope they'll share their secrets!
"WinWin" was also selected as the overall Top 5 at the hackathon and were invited to pitch onstage in front of the entire event – so while they didn't win the big cheese (sadly), we were overjoyed to still give them a win for the day by smartly using our Routing and Display APIs.
We sincerely hope that we encouraged community of learning developers with a socially-minded topic to build for a difference, and we're happy give two passionate teams a great memory to take home with them (and their cash, of course).